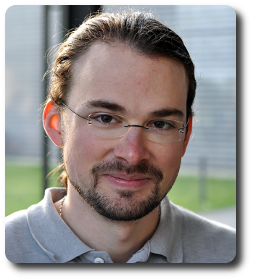 I'm a computer scientist specialized in the areas of
program analysis and verification,
programming languages and session types,
distributed, embedded, and cyber-physical systems.
I focus on developing programming abstractions designed that are amenable to automated verification, i.e., the automatic analysis of software to find mathematical proofs showing the code meets its specification.
Between 2016 and 2021, I was a research group leader at MPI-SWS. Until September 2016, I was a Postdoctoral Associate at MIT CSAIL in Martin Rinard's group. I received my PhD in 2013, working under supervision of Thomas A. Henzinger at the Institute of Science and Technology Austria (IST Austria). Prior to that I received a Master in computer science from EPFL in 2009.
For more information about my career, see my CV.
Consulting
I offer consulting in my specialization area (see above). In particular, if you are developing safety-critical software and you are interested in using formal methods (model checking, theorem proving, etc.) I can help you. To get a better idea of what I can do, check my publication record below.
If something looks interesting to you, just send me an email to discuss your needs and what I can bring to that table.
PC co-chair
VMCAI 2020, 21st International Conference on Verification, Model Checking, and Abstract Interpretation.
NSV 19, 12th International Workshop on Numerical Software Verification.
VMW 2017, Verification Mentoring Workshop 2017.
PC member
Awards
Excellency Scholarships at the Master level from EPFL.
Graduated best in class from my Bachelor at EPFL.
Silver Medal of the Association for Computing Machinery - International Collegiate Programming Contest (Regionals, South-Western Europe) in 2007 with EPFL (6th place, Swiss champions, team with Frédéric Dubut and Christian Kauth)
Bronze Medal of the Association for Computing Machinery - International Collegiate Programming Contest (Regionals, South-Western Europe) in 2006 with EPFL (9th place, Swiss champions, team with Frédéric Dubut and Abhishek Garg)
Other
`